Oregon Lavender Association April 2020 Newsletter
The Oregon Lavender Association 
invites you to enjoy lavender 
all year round!
Announcements and Events
April 2020
We hope that this newsletter finds you well.  Spring reminds us that even after the darkest winter, life is persistent and resilient, as are we.  We hope that the ideas in here will offer a respite from the more stressful events in our lives and provide some ideas to keep you healthy and hopeful.
OLA Quarterly Members Meeting:
Rescheduled to Saturday, May 16, 2020 (if appropriate)
More details to come
Essential Oil Showcase at the Willamette Valley Lavender Festival, 
July 11-12, 2020 in Newberg, Oregon
Mark your calendars! All About Lavender and the Chehalem Cultural Center will host the 2020 Essential Oil Showcase focused on lavender in its many forms. The event provides recognition for small-scale essential oil distillers and growers of the lavender used in distillation and increases public awareness of their efforts and access to their fragrant creations. New for 2020 will be the provision of information directly to interested attendees about the availability of each oil, and how to purchase it.
Distillers and lavender growers are invited to submit samples of their lavender essential oils from the 2017, 2018, or 2019 growing seasons. Please see the attached materials for detailed information about the Essential Oil Showcase and how to participate. Or contact Marilyn by phone at 503-449-3767 or by email at  
allaboutlavender@gmail.com
Announcements:
The 2020 OLA Destinations Guide is now available!
Follow the Lavender Bloom in Oregon! You can 
download the Guide
 or you can pick up copies at participating farms and businesses.
What information will you find in the guide?
Which lavender farms throughout Oregon are open to the public to enjoy lavender when it is blooming.
Which farms open their lavender fields for U-Pick lavender.
Which farms are open for a weekend festival or event with lavender-related activities and products.
Which farms are open by appointment at different times throughout the year.
2021 USLGA Conference

The United States Lavender Growers Association 2021 conference will be held in Portland, OR, on  Jan. 28, 29 & 30 at the new Hyatt Regency, Portland.
More information to follow!
OLA Grow with Us and Promote with Us Members
Don't forget to update your information on the 
OLA website
 for the new year!  Get the most marketing value from your OLA membership and enter your farm's information along with the lavender products and services you offer.  There are now tutorials available in the Member Portal to help walk you through the process.  If you have any questions, feel free to email Pam Baker at 
pbaker@littlelavenderfarm.com
What's in Your Easter Basket?
Looking for lavender goodies to fill your Easter basket?  Or maybe you have a friend or neighbor (or maybe even yourself!) who could use a care package. Many of our OLA farmers have online shops where you can find all kinds of amazing lavender products.  Check them out and help support a small business!
History of Commercial Lavender Growing 
in the Northwest 
Chris Mulder, Barn Owl Nursery
Did you know that the first commercially grown lavender in the Pacific Northwest began in the 1920s, around 100 years ago? Luther J. Wyckoff, a resident of Seattle, Washington, was considered to be one of the pioneers of lavender breeding in the Pacific Northwest. He began growing L. angustifolia to be a source of essential oil for the American perfume industry. He found that L. angustifolia grew well along Puget Sound, where it had a good chance of remaining free from disease.  He was quoted as saying that the Puget Sound region is "climactically suited to lavender growing as long as you keep your operation on high, well-drained ground."
In 1924, Wyckoff agreed to work with the U.S. Department of Agriculture (USDA). This allowed him to be a collaborator and supply plants and supervise a joint lavender project, while the USDA paid for some of the expenses and helped publish the information. Three areas along Puget Sound were chosen to plant lavender: Bothell, Chimacum, and Chambers Prairie, now called the Horizon Pointe area in Lacey, WA.
In 1928, Wyckoff planted rooted cuttings that were propagated from large lavenders planted around the Seattle area. In 1929, his new lavenders sustained considerable winter damage. It was discovered that the original plants that supplied those first cuttings were not L. angustifolia at all, but were actually mislabeled L. x intermedia plants! Fortunately, there were hardy lavender seedlings growing nearby that were true lavender, L. angustifolia, and those plants proved to be the hardiest species of lavender to grow in the area. So Wyckoff acquired seeds and plants of L. angustifolia cultivars from several sources in France and began growing them in those locations in Washington state. In 1931, each of the acquired French lavender plants was grown apart from the other lavenders, until the quality of the oil could be tested. Then further distillation was done to produce larger quantities of essential oil. Extensive data was gathered about each area where the lavenders were grown. Their data included extensive notes on their successes and the growing conditions.
In 1934, due to the depression, Wyckoff's agreement with the USDA ended. He moved his lavender plants to 10 acres of land that he rented, just to keep his project going. Eventually, Wyckoff received enough donations and financing to purchase 80 acres of land close to the rented land he was using. He built several buildings on the property, including a distilling room, a boiler house, and a machine shed.
In early 1940, he built a house on the property and moved his family to live in Lacey, WA.  He began a non-profit, Plant Research Foundation, to experiment with growing lavender and other plants. His farm became so successful that 5,000 cuttings of his lavender were sent to Yardley and Co. Ltd, which at that time was the world's largest user of lavender oil.  The strains that Wyckoff developed were desired for their high quality and resistance to disease.  According to the newspapers of that time, Wyckoff's business was the first lavender farm in the United States.
By 1950, Wyckoff had been producing lavender oil for nearly 25 years in Washington state. He was regarded as the foremost authority on the commercial cultivation of L. angustifolia in North America!  Despite his slow start and early problems, Wyckoff established that a good grade of lavender oil could be produced from lavender grown on Puget Sound and that lavender plants grew well there, even under some challenging conditions due to the soil, the site, and the climate.
Wyckoff noted that some of the lavenders he grew flowered early, with a 2 to a 3-week difference in bloom time, and later flowering lavenders could be grown, too, which extended the flowering season. Also notable, was he found that the life span of some of the lavenders he grew was much longer than the plants grown in several other countries. Some of Wyckoff's plants survived up to 25 years!
When the essential oils distilled from his lavenders were analyzed and compared with selected lavender oils from France, it was said that the aroma of his lavender oil was very similar to the French oil and no camphor was detected in the oil produced from the lavender grown at his farm in Washington state.
Sources: 
The Genus Lavandula, by Tim Upton and Susyn Andrews 
Lacey Museum Musings Newsletter, Vol. 2  Issue 2, Spring 2015
Featured Lavenders
"Wyckoff" or "Wyckoff Blue"
(Lavandula angustifolia)
Flower Color: Bright Violet-Blue
Stem Length: 10-12 inches
Height: 15-18 inches
Best Uses: bouquets, crafts, culinary
This lavender is presumed to have been developed by L. J. Wyckoff for its strong oil content. It is hardy to Zone 5, even though some growers find it difficult to keep it growing for a long period of time. The very fragrant, large flowers bloom in mid to late June and have lovely dark buds (calyxes) and bright violet flowers (corollas) on long stems. The plant forms an erect, compact shrub and has silver-gray foliage. This semi-dwarf cultivar is suitable to grow in a large container or to plant in the landscape in a row for a short lavender border in the garden.
Use the cut flowers fresh or dried for bouquets, the dried buds to make fragrant sachets and other crafts, and the fresh and dried flowering spikes and buds to garnish and flavor foods and beverages.
No. 9 or No. 9 Norfolk
(Lavandula angustifolia)
Flower Color: Dark Violet Blue
Stem Length: 10-12 inches
Height: 20-24 inches
Best Uses: bouquets, crafts, culinary, oil
This early flowering lavender cultivar was introduced by Norfolk Lavender, but the original plants came from lavender grown near Puget Sound in Washington state. It probably was collected by J.H. Seager of Yardley & Co. Ltd, around the 1950s, after one of his visits with L.J. Wyckoff in Washington state. This large lavender cultivar has gray-green foliage and flowers that bloom on long stems earlier in June. 'No. 9' produces many strongly scented flower spikes throughout the season.  The plants can be grown as a hedge or border in the garden.
The flowers have been used for oil production. This lavender cultivar can also be used for a fresh cut and dried bouquets. The fresh flower spikes are a nice garnish for foods and beverages. The very fragrant dark, dried buds can be used to make a potpourri and to fill sachet bags.
Resources and Connections
Lavender Cupcakes with Honey Cream Cheese Frosting
Perfect for an Easter dessert or Springtime treat!
Ingredients
Cake:
1/2 cup room temp butter
2 eggs
1 3/4 cup all-purpose flour
1 1/2 tsp baking powder
2 tsp dried lavender
1/2 tsp salt
1 cup of sugar
1/4 cup honey
1 tsp vanilla
2/3 cup milk
Frosting:
8 oz room temp cream cheese
2 tbsp room temp butter
¼ cup honey
½ tsp vanilla
4 cups powdered sugar
Directions
Cake:
Preheat oven to 350°.

In a medium bowl, combine flour, baking powder, lavender, and salt. Set aside.

In a large mixing bowl, beat butter with an electric mixer on medium-to-high speed for 30 seconds.

Add sugar, honey, and vanilla; beat until combined. Add eggs one at a time, beating well after each.

Alternately add flour mixture and milk to butter mixture, beating on low speed after each addition until mixture is combined.

Spoon the batter into lined muffin tins, filling each about half full.

Bake for 16 to 18 minutes or until a toothpick inserted into a cupcake comes out clean.

Keep the cupcakes in the muffin tin and let cool on wire racks for 10 minutes.

Remove cupcakes from muffin tins.

Cool completely on wire racks.
Frosting:
In a large mixing bowl, beat cream cheese, butter, honey and vanilla with the mixer on medium until light and fluffy.

Add 1 cup of the powdered sugar, beating well.

Gradually beat in remaining powdered sugar until it reaches spreading consistency.

Frost the completely cooled cupcakes with the honey frosting.

Sprinkle with more lavender.
Grandma's Lavender Potato Rolls
A great addition to your Easter dinner!
Makes about 24 Rolls
Ingredients
1 large russet potato, peeled and cubed
1/4 cup warm water (about 110 – 115 degrees F)
1 package active dried yeast
1 cup milk, heated to 180 degrees F and cooled to lukewarm
4 tablespoons unsalted butter, room temperature
1 large egg
1/2 teaspoon sea salt
1 cup fine diced or shredded sharp white Cheddar cheese
1/4 cup minced green onion
1 tablespoon finely chopped fresh lemon thyme or thyme
1 tablespoon dried culinary lavender buds
4 cups all-purpose flour
1 large egg, slightly beaten (glaze)
Instructions
1.  Place potatoes in a medium saucepan and cover generously with cold water.  Bring to a boil over medium-high heat, then reduce the heat and simmer until tender, about 10 minutes.  Drain and cool.  Mash and measure out 1/2 cup for the rolls; reserve any remainder for another use.
2.  Place the warm water in a large bowl and sprinkle with yeast.  Let stand for 5 minutes, or until foamy.  Stir in the potatoes, milk, butter, salt, and 1 egg. Then stir in the cheese, green onions, and thyme.
3.  Place the lavender and 1 teaspoon of flour in a spice grinder.  Pulse until finely ground.  Add to the bowl.  Stir in 2 cups of flour.  Stir in enough of the remaining flour to make a soft dough.  Turn out onto a lightly floured surface and knead for 6-8 minutes, or until smooth and elastic.
4.  Oil a large bowl, add the dough and turn to coat the top.  Cover and let rise in a warm place until doubled in size, about 1 hour.  Punch down and shape into a ball.  Cover and let rise 10 minutes.
5.  Grease 2 baking sheets.  Pinch off small amounts of dough (about the size of a lime) and shape into rolls.  Place on the baking sheets with at least 1/2 inch of space between them.  Let rise until almost doubled in size, about 1 hour.
6.  Preheat oven to 400 degrees F.  Glaze the rolls by brushing the surface with the slightly beaten egg.  Bake for 10-12 minutes, or until golden brown
Setting a Lavender Table for Spring
Since we're spending a lot of time in our homes these days, why not add some cheery decorations to brighten your table?  Here are a few ideas:
Source: Gmail – April 2020 Newsletter
The top searched for lavender recipes are:
Lavender Cake
Lavender Ice cream
Lavender Chicken
Lavender Cookies
Honey Lavender Ice cream
Notice that ice cream comes up twice on the top 5!  It's just that good!
Lavender and Reducing Anxiety

Pam Baker, Little Lavender Farm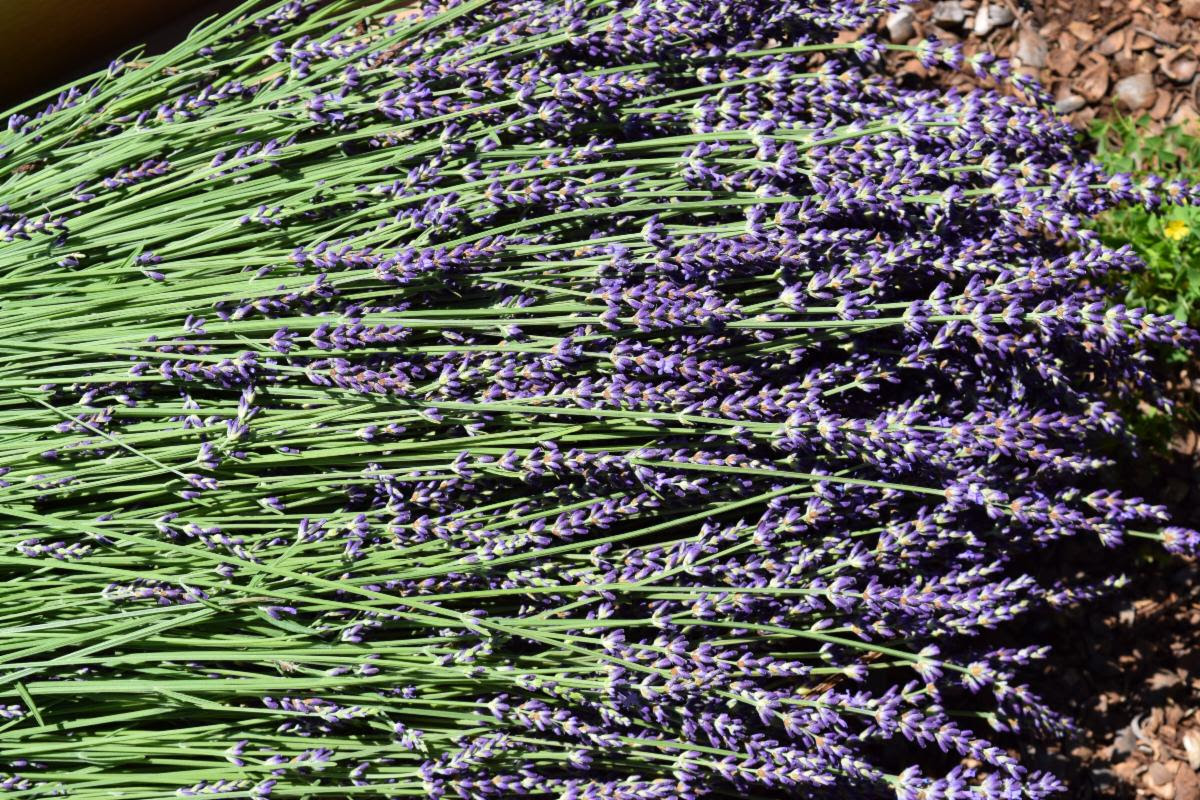 A 2013 paper called Lavender and the Nervous System (found on the National Institute of Health 
website)
provides "a survey on current experimental and clinical state of knowledge about the effect of lavender on the nervous system." The authors note that "there is growing evidence suggesting that lavender oil may be an effective medicament in the treatment of several neurological disorders. Several animal and human investigations suggest anxiolytic, mood stabilizer, sedative, analgesic, and anticonvulsive and neuroprotective properties for lavender."
In addition, Michael Lemmer's article in our March 2020 newsletter concluded that "The essential oils in lavender contain a large component fraction of linalool that has been shown to reduce anxiety in an experimental mouse model. Inhaling it may help reduce your level of anxiety."
In other words, science supports what we all already knew — that lavender can have a calming effect on us, reducing our anxiety, relaxing us, and helping us sleep.  And couldn't we all use a little bit of that right now? Self-care is such an important part of keeping ourselves healthy, both mentally and physically — so here are a few suggestions for how to incorporate lavender into your daily routine to help reduce your and your loved ones' anxiety during these stressful times.
Bath:  One of the best ways to relax is with a warm bath, and adding lavender essential oil will make this an even more relaxing experience.  Just add 6-8 drops of oil and then vigorously mix it in to help distribute it throughout the water. There are also many bath products that use lavender oil along with Epsom salts for added benefit.
Neck wrap with lavender bud:  Heat in the microwave for 1 minute and then place it around your neck.  The heat releases the oils in the lavender buds, and along with the heated rice or flax seed inside, provides a relaxing therapeutic experience.  If the buds stop releasing their oil, you can also put a drop or two of essential oil on the neck wrap before you put it in the microwave for the same effect.
Linen spray:  Hydrosol, often used as a linen spray, is the byproduct of the lavender distillation process and has many of the same properties as the essential oil. Spray your pillow before your settle in for a soothing and relaxing sensory experience as you drift off to sleep.
Foot massage: Using lavender essential oil in foot massage has been found to be effective in lowering blood pressure, heart rate, respiratory rate, wakefulness, and pain.
Sleep pillows:  Lightly fill a large muslin bag with dried lavender buds and put inside your pillowcase.  The lavender oils in the buds will release fragrance throughout the night, aiding in restful sleep. You can also just use a lavender sachet placed near to your face for similar results.
Lavender sachets:  If you find yourself feeling anxious during the day, keep a lavender sachet in your pocket and take it out every once in a while to give it a gentle squeeze.  Inhale deeply and take a minute to let the linalool do its work.
Lavender Essential Oil Diffuser:  A few drops of lavender essential oil in your diffuser will provide hours of soothing comfort.
Many of our OLA farmers carry these and other wonderful lavender products.  See the list below for farms with online stores.
Source:  Koulivand, P. H., Khaleghi Ghadiri, M., & Gorji, A. (2013). Lavender and the nervous system. Evidence-based complementary and alternative medicine : eCAM, 2013, 681304. https://doi.org/10.1155/2013/681304
Did you know that you don't have to be a lavender grower to be a member of the Oregon Lavender Association?
Among the many benefits, you receive discounts at participating Lavender Destination farms and attendance at OLA educational events. Quarterly meetings cover a broad range of lavender topics from distillation to culinary demonstrations.